Spielwarenmesse Nürnberg 2018 Teil 3
31.01. bis 04.02.2018 - MiniArt, Zvezda, Heller, Artmaster


Im Gespräch mit Ben Mirson
Der Spezialist in 1:35
Der ukrainische Hersteller MiniArt konnte wieder mit einem breiten Spektrum an Figuren und Militärfahrzeugen im Bereich WWII aufwarten.
Daneben gibt es auch zwei neue Sets bei den Zivilisten in 1:35.
Neu sind neben den bestehenden auch zwei neue Serien bei MiniArt!
Das ist die Aircraft-Serie in 1:35, von der man schon drei filigrane "Kolibris" sehen konnte.
Diese Helicopter aus dem WWII sind wie alle Produkte sehr hochwertig und detailliert ausgeführt. Wie auch bei den PzKfz werden natürlich auch diese Fluggeräte mit dem entsprechenden Personal ausgestattet.
Und dann startet demnächst die "What If...? - Serie". Hier werden außergewöhnliche und einzigartige Prototypen, Projekte und verrückte Ingenieursprodukte zu sehen sein. Das verspricht sehr interessant zu werden!
Auch bei den sehr schönen Gebäuden und beim Zubehör gibt es wieder Neues in 1:35. Eine Freude für jeden Dioramenbauer!
Die Neuheiten im Detail
WWII Military Miniatures Series 1:35:
Figuren: Totenkopf Division (Kharkov 1943), Soviet Mine Detectors, U.S. Horsemen Normandy 1944, U.S. Soldiers (Rainwear), German Panzergrenadiers, U.S. Mine Detectors, Soviet Tank Crew (for Flame Tanks & Heavy Tanks of Breakthrough), German Grenades & Mines Set, German Infantry at Rest, Polish Tank Crew, German Tank Crew (Normandy 1944) Special Ed., German Tank Crew Kharkov 1943, 
Fahrzeuge/ Tanks:
German Fire Truck L 1500 S LF 8 w/TSA, M3 LEE early Prod. Intgerior Kit, M3 LEE mid. Prod. Intterior Kit, Stug. III 0-Series, Pz.Kpfw. III Ausf. D-B, M3 Grant Mk.1 Interior Kit, Pz.Kpfw.III Ausf. B w/Crew, T-60 (Plant No. 37) Prod Spring 1942 Interior Kit, T-60 Late Series, screened (Gorky Plant) Int.Kit, BM-8-24 Self-Propelled Rocket Launcher, Romanian 76mm SPG TACAM T-60 Int.Kit, Soviet Rocket Launcher BM-8-24 based on 1,5T Truck, SU-76M w/Crew Special Edition, German Railroad 1,5T Truck AA Type, German Rocket Launcher with 28cm WK SPR & 32cm WK FLAMM, Soviet Rocket Launcher LAP-7, M3A5 LEE, Grant Mk. II
Military Miniatures Series 1:35: 
Figuren:
Modern U.S. Tank Crew, Soviet Tank Crew 1960-70S, USMC Tank Crew at Rest, Soviet Tank Crew 1950S, British AFV Crew, German Train Station Staff
Fahrzeuge/Tanks:
TIRAN 4 early Type Int.Kit, TIRAN 4 SH late Type Int.Kit, T-55A early Mod. 1965 Int.Kit, T-55A Mod. 1981 Int. Kit, TIRAN 4 SH early Type Int.Kit, T-55 late Mod.1965 Int.Kit, T-55A late Mod. 1965, T-55A Mod.1981, T-55 Soviet medium Tank, TIRAN 4 late Type Int.Kit, BMR-1 early Mod. w/KMT-5M, SU-122-54 early Type, TOP (ARV SU-122-54 Base), SU-122-54 Late Type, TIRAN 4 SH early Type, T-55 RM SH workable Track Links Set early Type, T-54 Wheels Set early Type, T-55A early Mod.1965, T-55 Wheels Set, T-62 Wheels Set, LF 8 with TSA German Light Fire Truck, European Tramcar with Crew & Passengers,
Buildings and Accessoires Series 1:35: 
Railway Accessoires & Tools, Vodka & Schnaps Bottles w.Crates, Water Pump Set, Anti Tank Obstacles, Milk Cans with small Cart, Wooden Boxes & Crates, Civilian Luggage Set 1930-40s, Cable Spools, Easr European Home Stoff, Accessoires for Buildings
What If...? Series 1:35: (neue Serie)
2 New Tanks
Aircraft Minatures Series 1:35: (neue Serie)
FL 282 V-6 Kolibri, FL 282 V-21 Kolibri
Historical Miniatures Series 1:72:
Assault of Medieval Castle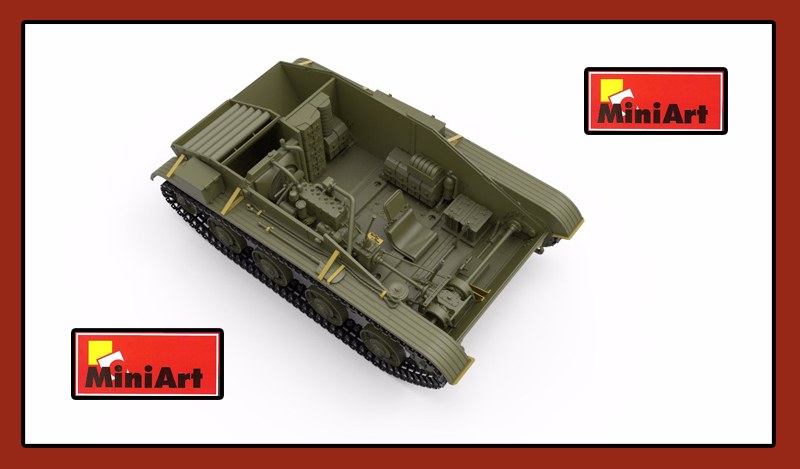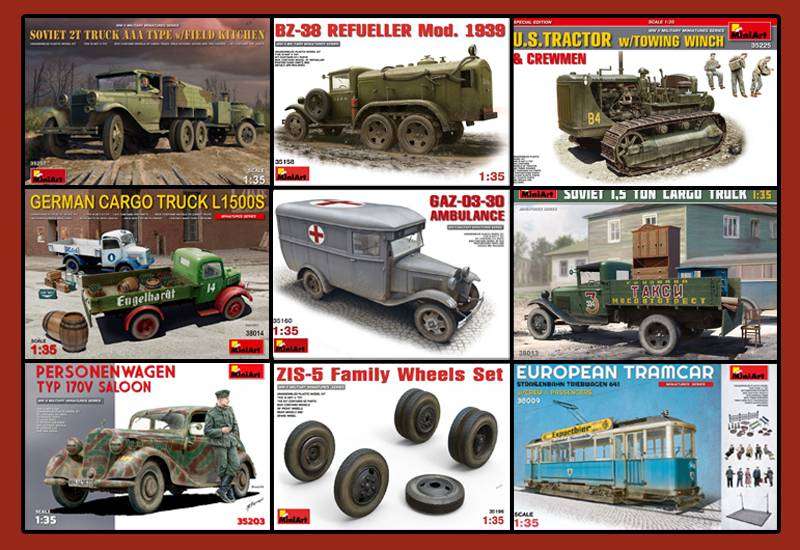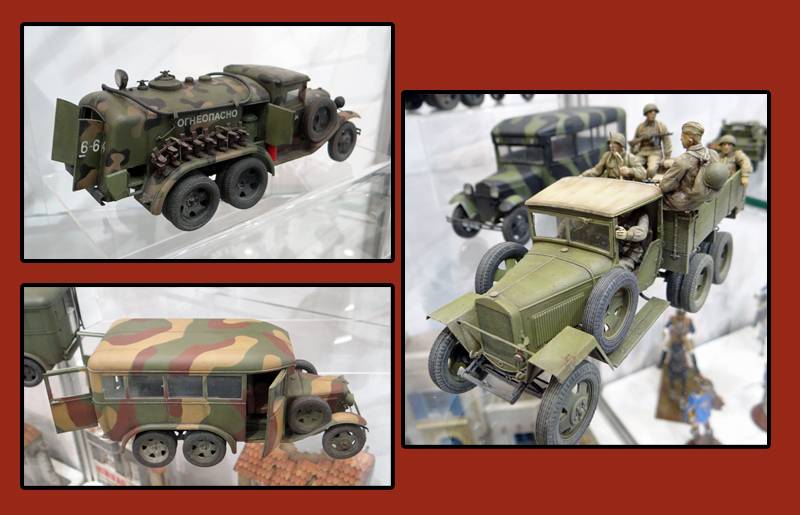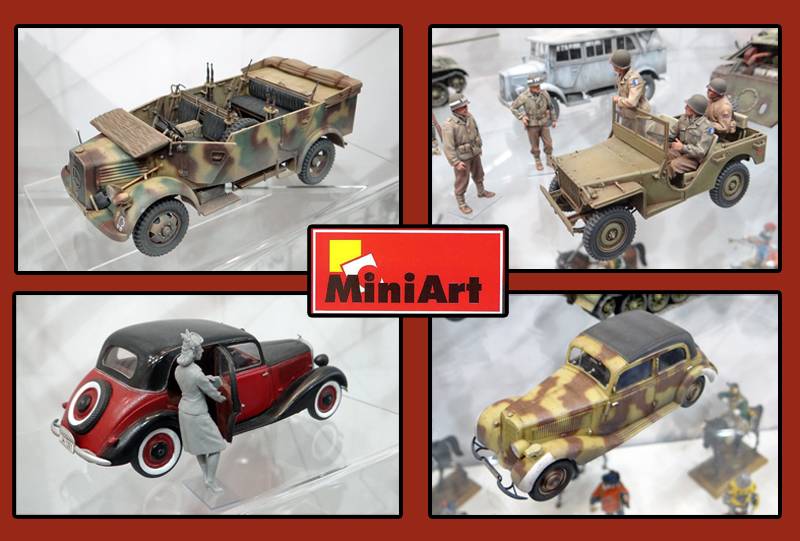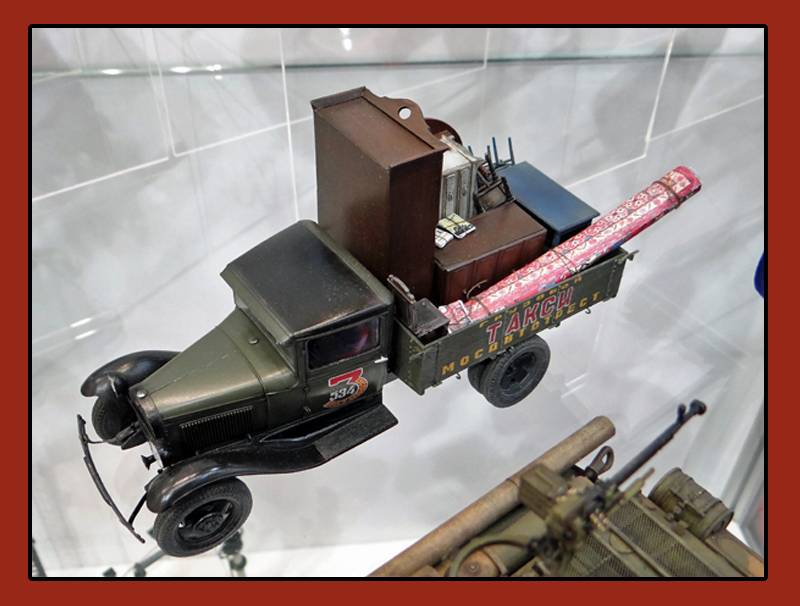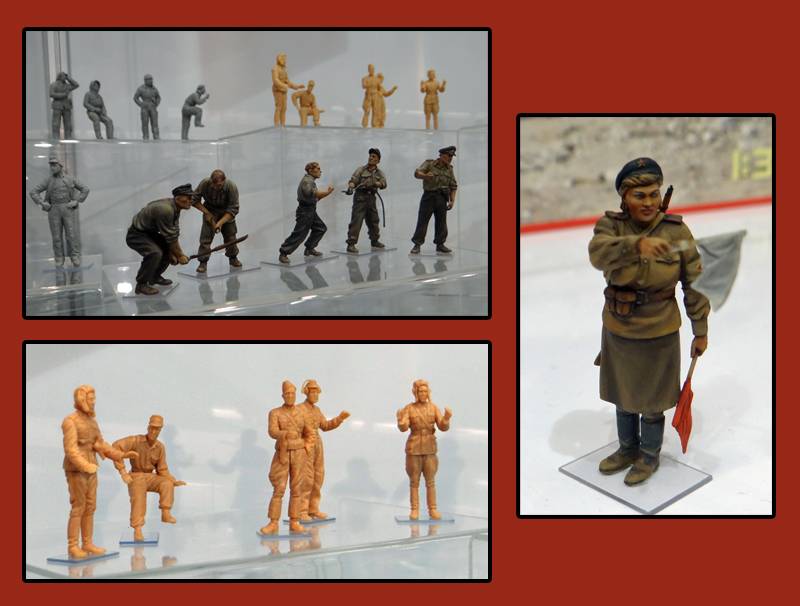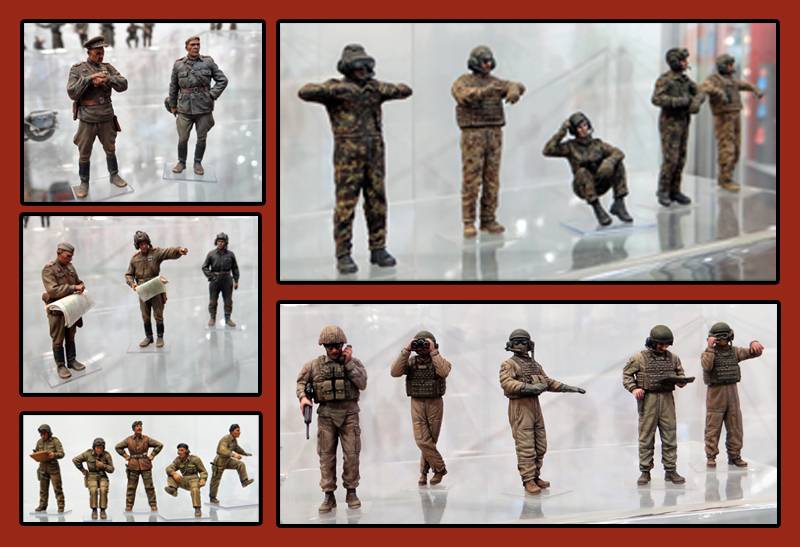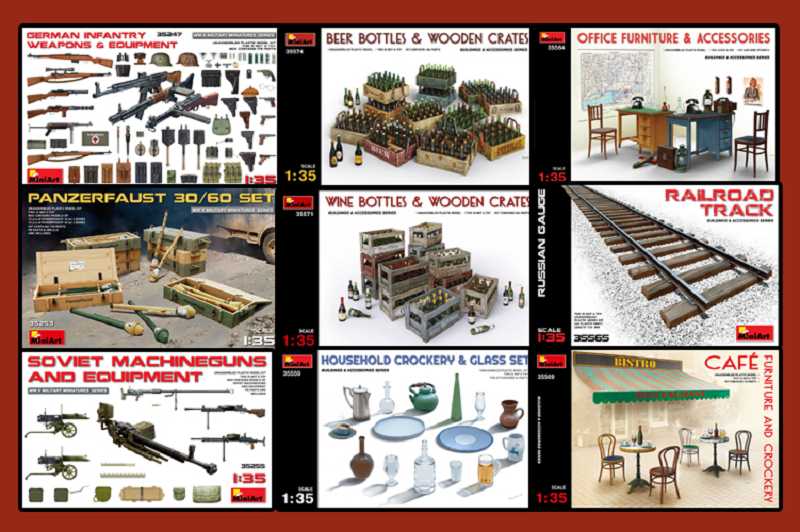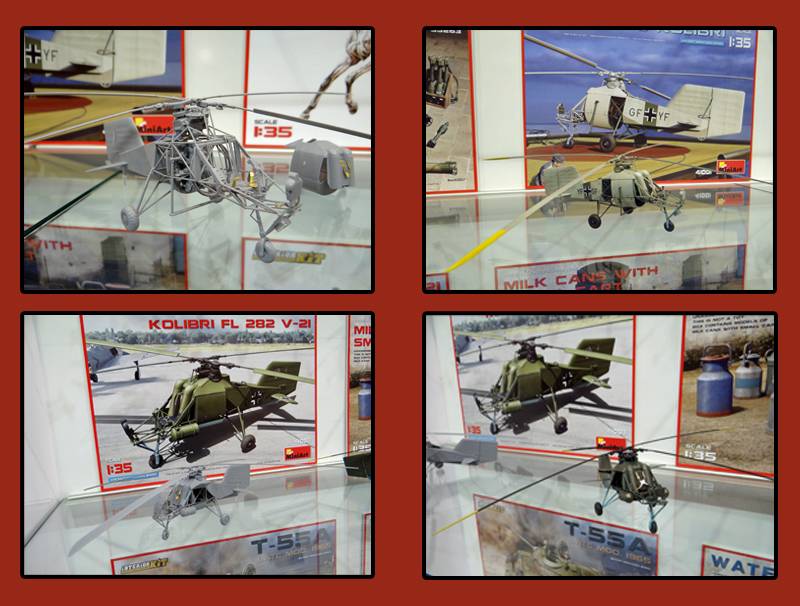 Neuheiten
Flugzeuge 1:72: Su-24MR Fencer-E, German Bomber Ju-88A4, Su 27UB Flanker-C, Soviet Attack Helicopter MI-24P Hind, Russian Aerobatic Aircraft Yak-130, Soviet Fighter MiG-15 Fagot, 
Flugzeuge 1:144: Civil Airliner Tu-204-100, A-50 Mainstay, Civil Airliner Boeing 737-8MAX, Russian Transport Airplane IL-76TD EMERCOM
Fahrzeuge 1:35: Soviet Flame Thrower Tank OT-26, Soviet Main Battle Tank T-72B, Soviet Personal Carrier BTR-70, Soviet Airborne Fighting VehicleBMD-1, Russian Main Battle Tank T-80B, German Medium Tank Pz. IV Ausf. E, Russian Army Truck URAL 4320, Russian Main Battle Tank T-90MS, Russian Fighting Vehicle TBMP-T-15 ARMATA, Soviet Medium Tank T-34/85, Soviet Tank Destroyer SU-100, Russian Combat Vehicle TERMINATOR-2,
Figuren 1:35: Russian Tank Crew (Combat Version), Russian Tabk Crew (Parade Version)
Fahrzeuge 1:72: German Medium Panzer IV Ausf.H, German Tank Destroyer FERDINAND Sd.Kfz.184, Russian Main Battle Tankt-14 ARMATA, Soviet Heavy Tank T-35, 
Schiffe 1:350: Russian Nuclear Submarine K-266 ORIOL, Nuclear Submarine YURY DOLGORUKLY,
Figuren 1:72: Russian Guard heavy Artillery, Swedish Infantry, Swedish dragoons of Charles XII, Austrian Musketeers and Pikemen, Swedish Artillery of Charles XII, Medieval Stone Castle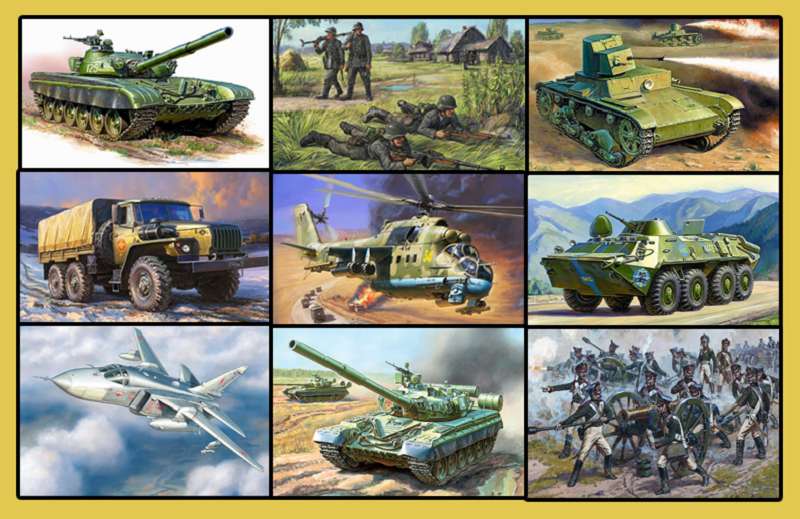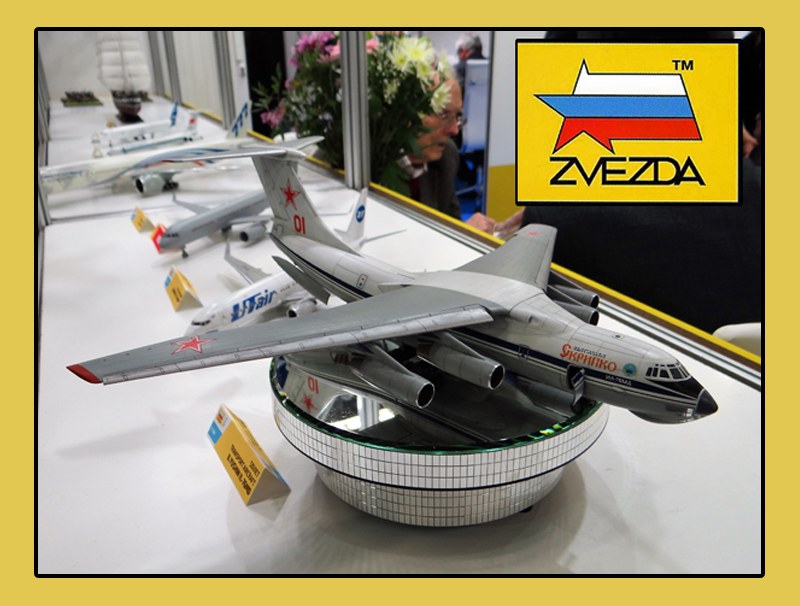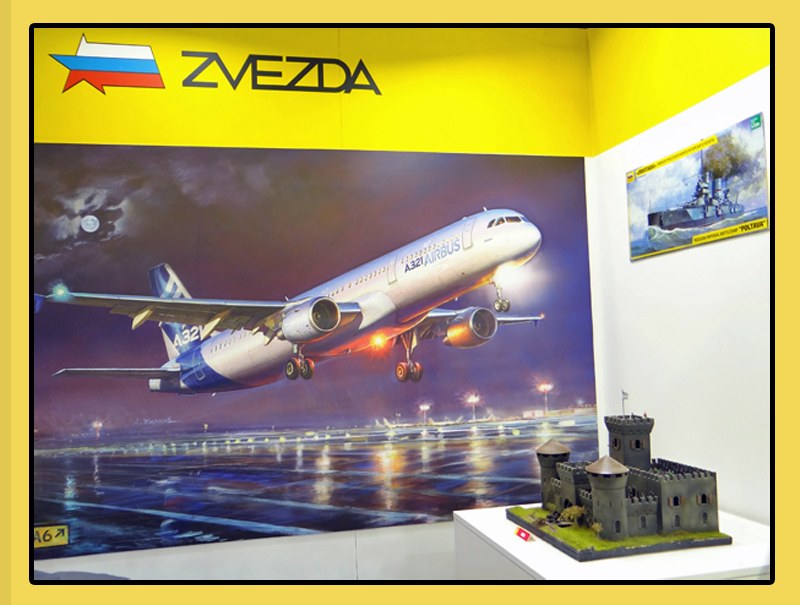 Neuheiten
Figuren 1:35: Sockel für Wüstendiorama, Sockel für Campagne Diorama
Fahrzeuge 1:43: Renault 5 Turbo, Renault 4CV, Subaru Impreza WRC '00, Subaro Impreza XRC '02
Fahrzeuge 1:24: Renault R8 Gordini, Renault 5 Turbo, Subaro Impreza WRC '03, Renault 4CV, Renault 4CV Pie, Citroen C4 Fourgonnette 1928, Citroen C4 Splendid Hotel, Massey Ferguson 2680, Renault Esafette Gendarmerie Renault Estafette,
Fahrzeuge Zivil 1:32: Volvo F12-20 Globetrotter, & Container Semi Trailer, Volvo F12-20 Globetrotter & Twin Axle Semi Trailer, Volvo F12-20 & Timber Semi Trailer
Flugzeuge 1:72: North American T-28 Fennec/Tojan, SAAB 91 SAFIR, Lodkheed EC.121 Warning Star, SAAB A/S 32 Lansen, AAC.1 Toucan, Lockheed C-121A Const. BERLIN, Canadair CL-215, Lockheed L-1049 G Super Constellation, Curtiss H-75 A3, Potez 63-11 A3, Amiot 143, Potez 540, Bloch 210, Liore & Olivier 45,
Schiffe 1:400: Escorteurs Rapides E 50, Escorteurs Rapides E 52,
Schiffe 1:200: Volontaire, Fauvette,
Schiffe 1/150: Amphitrite, Capricorne, Pamir, Passat,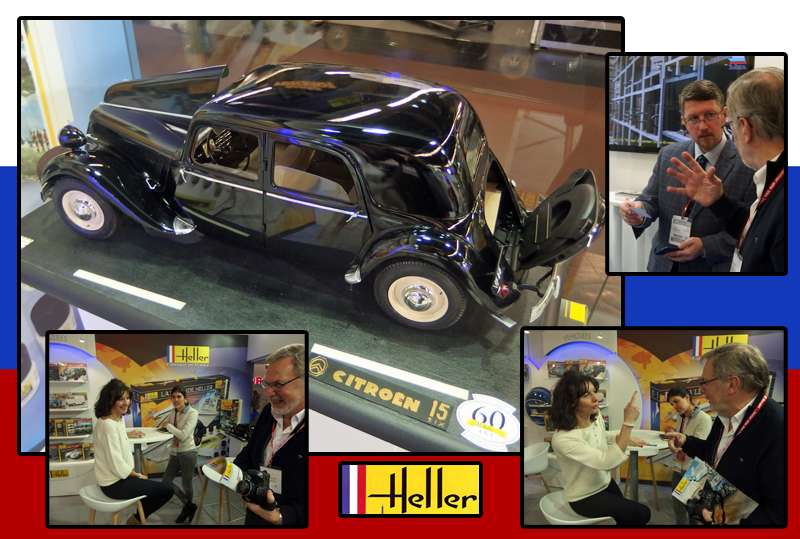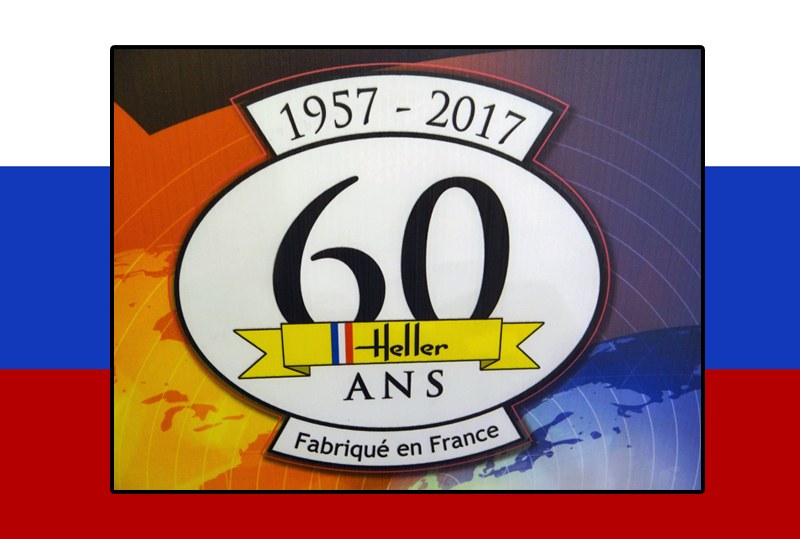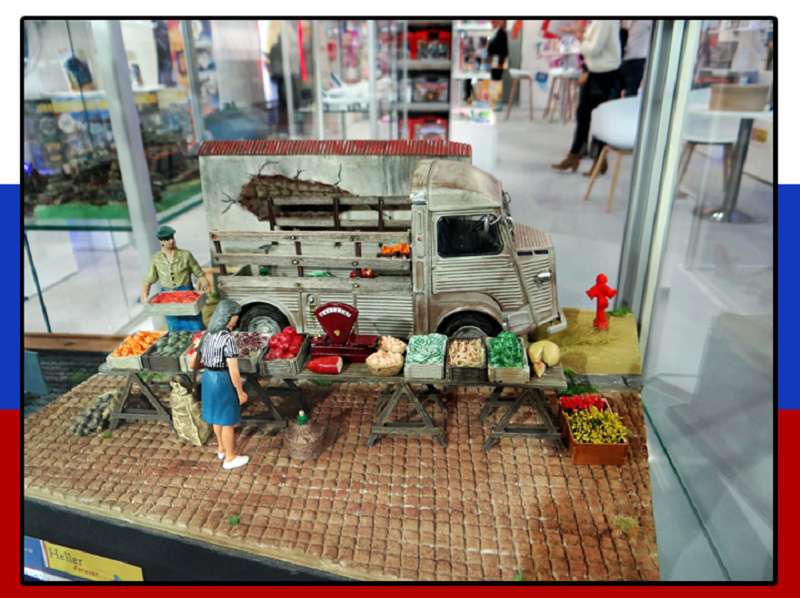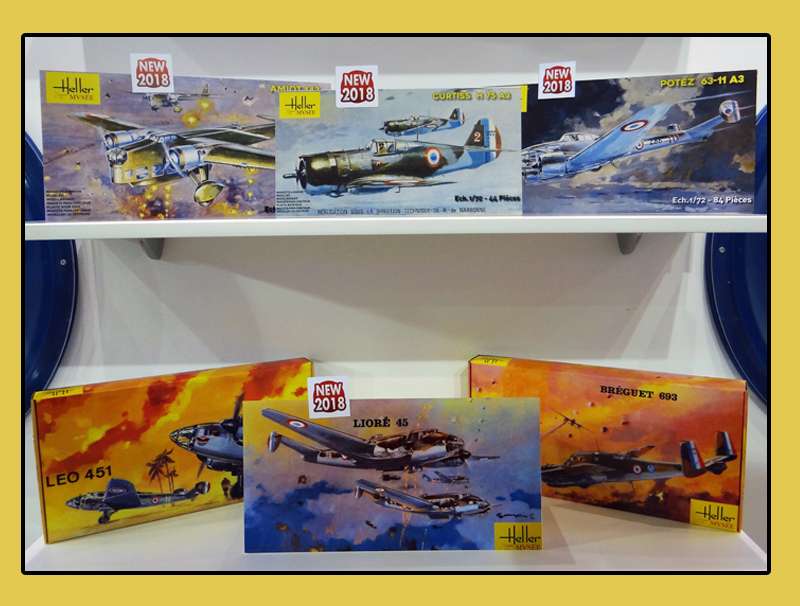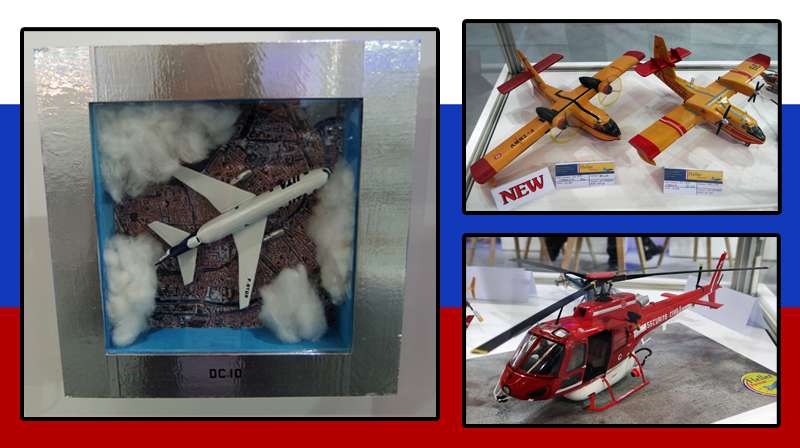 HO und Maritimes
Wie jeden Tag begeben wir uns am Abend wieder in die Halle 4 A zu den Eisenbahnern. Dort besuchen wir den Stand von Artmaster.
Der deutsche Modellbau-Hersteller bedient seit 1993 in filigraner Weise die Themen Bahn und Maritimes im WWII. Zwei Lücken im Modellbau, die hier hervorragend geschlossen werden. Die meisten Figuren, Zubehör, Gebäude und Modelle bekommt man im HO-Maßstab 1:87.
Daneben gibt es aber auch Vieles in 1:72, wie z.B. die Helmtaucher, die ich auch schon mal in meinem Diorama 20.000 Meilen unter dem Meer verwendet habe (siehe Bericht im Modellversium).

Im Gespräch mit Norbert Schuh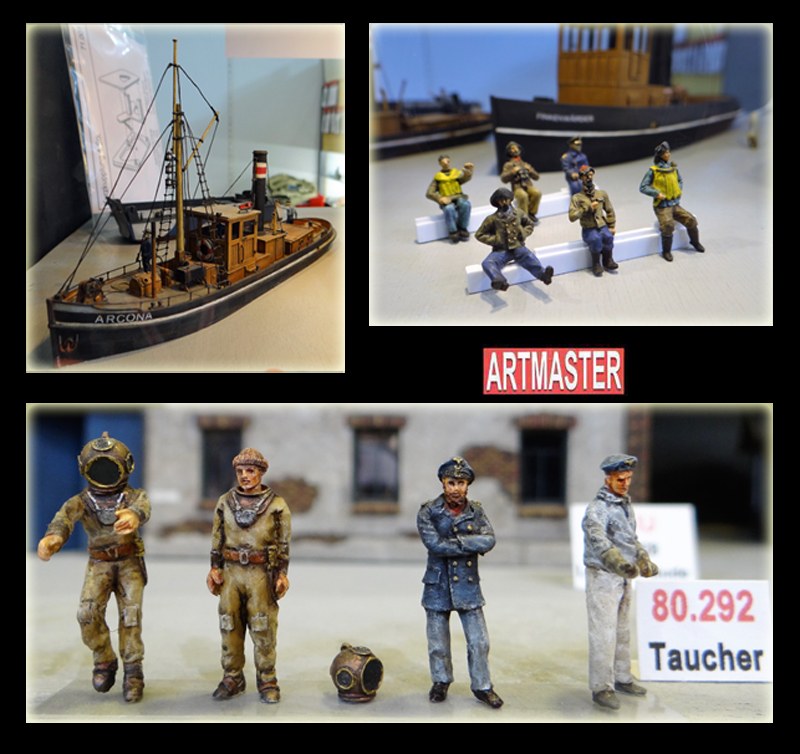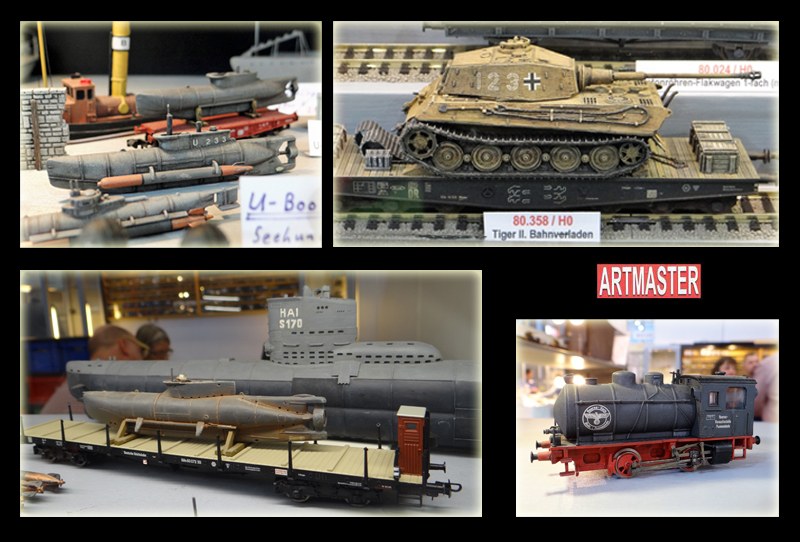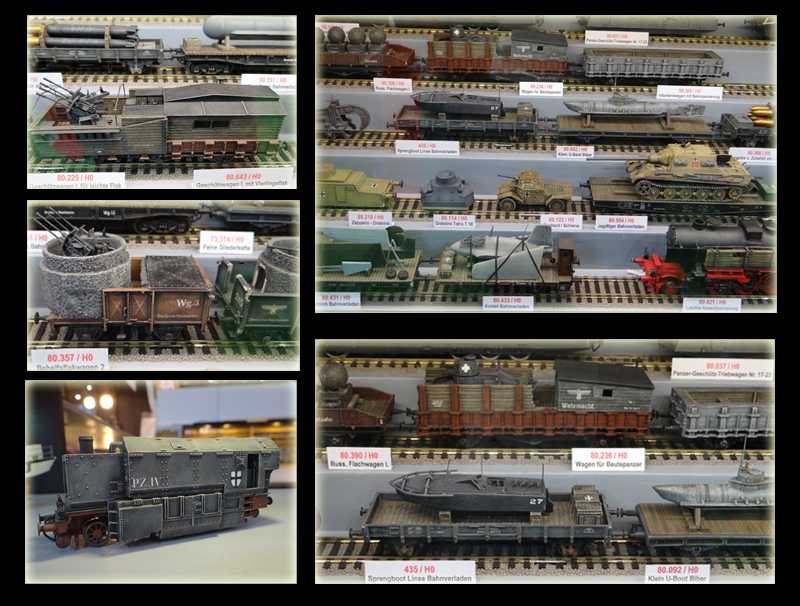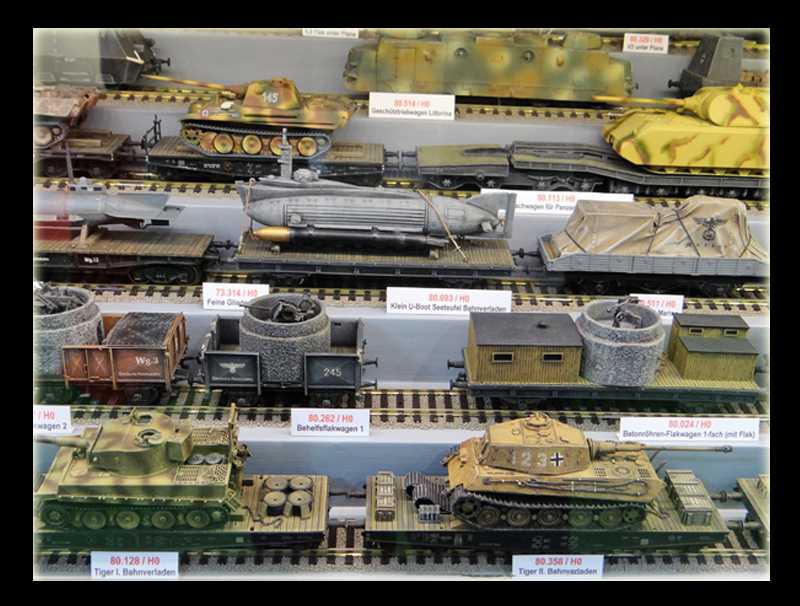 Fortsetzung folgt
Im Teil 4 besuchen wir CMC, Trumpeter, Hobby Boss, Master Box, Mirage, Italeri, Woodland Scenics und Umbum Clever Papers
Wolfgang Hartung
Publiziert am 20. Februar 2018
Die Bilder stammen von Gertrud und Wolfgang Hartung.